I'm changing the rules to Say WHAT? a bit. This week's quote was apparently a toughie. No one had answered correctly until today. Plantain gave the correct answer. She also confessed to having to look it up on Google. I tried doing that myself by simply entering the quote as a search. I did not come up with anything. So, I figured she must have gone to at least a little trouble trying to find the answer. Stephanie from Adventures in Babywearing also told me she had to look up the answer.

So the new rules are the same as the old rules EXCEPT if I still don't have a winner by Sunday anyone can feel free to use the internet as a resource and the first one to answer will be declared the winner. How about that? As for today I am declaring Plantain the winner for this week. I don't intend for the quotes to be so difficult but, sometimes it's bound to happen. Anyway, Congratulations Plantain!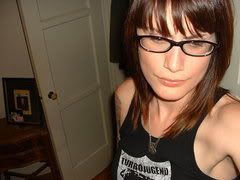 It was actually my husbands idea to use 'The Sure Thing' this week since last week I mentioned that Daphne Zuniga hadn't been in many movies. He thought it would be challenging to pick another 80's movie she'd been in. Since my favorite fella John Cusack also stars in this film I agreed.




To be honest, 'The Sure Thing' doesn't stand out to me as a great movie, which is saying something since I love John Cusack so much. It is also kinda weird since Rob Reiner has made some great movies including one of my all time favorites, 'The Princess Bride'. Other interesting tidbits are the fact that Anthony Edwards (Dr. Mark Greene on ER) and Nicolette Sheridan (of Desperate Housewives) are also in this movie. Wow! Look how far they have come...

So that's all folks. Sorry I picked sure a hard quote. To be honest I thought it was a funny quote. You know because you can't be spontaneous if you plan it right? Um. Yeah.